Oct. 2014
Working to Find Something that People Can be Proud Of
Working to Find Something that People Can be Proud Of
Working to Find Something that People Can be Proud Of
Korekata Norimitsu/Copy Director, No. 1 Production Studio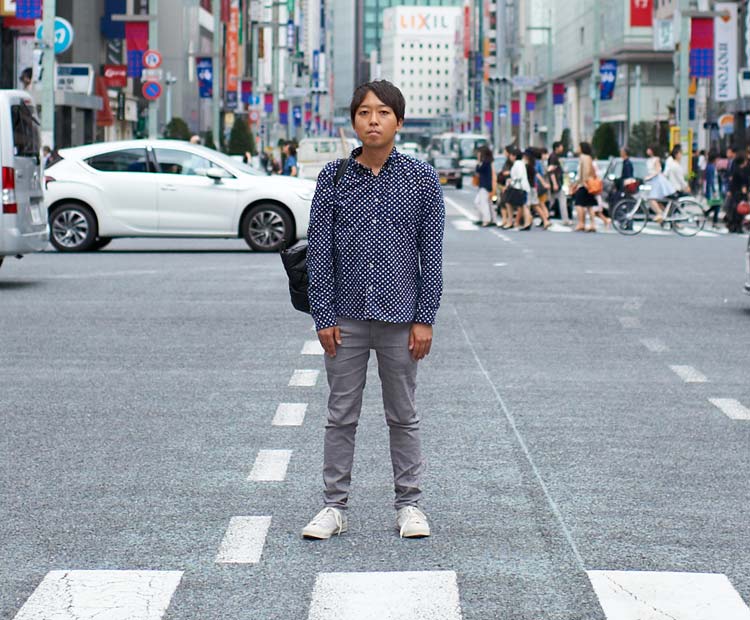 There is always an answer and copy to be found in what is already there.
Korekata Norimitsu
Copy Director, No. 1 Production Studio
Korekata Norimitsu was born in Nara Prefecture in 1979. He joined Nippon Design Center after graduating from the Waseda University School of Education. Since that time, he has been involved in an extremely wide range of word-based communication, from writing for sales promotions to concept work for products and exhibitions, as well as writing and editing books, all based on his approach to creating work that is careful, precise, and delves deeply into the subject matter. He has done much work related to history, culture, and revitalization of local economies. Recent works include the Toyota Motor 86 "Product Notes" and Crown "Philosophy Notes"; "Peninsula Time" for the Ministry of Land, Infrastructure, Transport and Tourism; "Chinzanso 3-story Pagoda" and "Select History of Chinzanso" for Fujita Kanko; the "Takao 599 Museum Project" in Hachioji City, Tokyo; and the "Potato Shochu Design Project" in Kiyosato Town, Hokkaido.
read more close
Hello, I am Korekata Norimitsu. I am often told that the name Norimitsu sounds like the name of a Buddhist monk. It was given to me by my father, who is a deeply religious man. I had a slightly unusual childhood; my grandparents loved me very much, and every day when I was young I would sit in front of the Buddhist altar and recite sutras with them. Perhaps these sutras were the reason that I became a writer.
Since joining NDC, I have been a member of the team which is primarily responsible for Toyota Motor work. During the first 1 – 2 years after joining the company, I lost the confidence of my student days, and I was continually frustrated that my copy was always below the level of my coworkers. When I became so vexed, I frequently visited the main hall of Tsukiji Honganji Temple to refresh myself. As these days continued, I encountered the job that was to be a turning point for me.
For around 2 years beginning in 2007, I was involved in creating newspaper ads that focused on Toyota car production itself, titled "One Irreplaceable Vehicle." I visited dealers and plants all over Japan, interviewed employees who were active on the frontlines, and wrote the copy. One of the persons I interviewed was a service engineer who was a woman in her 20s, wearing work overalls streaked with oil. When I asked her why she chose this job, she answered, "Because I love cars." Inside I thought, "Well that is only natural," but the reaction of a senior copywriter was different. He said, "In this age when young people talk about moving away from cars, it is remarkable that a young woman would use the world "love" to describe them; this should be our catch phrase." Of course! In those days, I lacked a big picture perspective. We call it a catch phrase because we have to accurately sense the current trends and catch precisely the right words. I had been working feverishly through trial and error to create the right words, and it was only at that time I realized this simple truth. This experience changed my approach to my work ever since.
I was fortunate to meet Edogawa University Professor Suzuki Takateru, also know as Professor Bumblebee, who is active in creating links between local communities and designers, and I have for the past several years been involved in work and volunteer activities with deep roots in local communities across Japan. I have visited many different areas, including participation in the "Peninsula Time" local revitalization project of the Ministry of Land, Infrastructure, Transport and Tourism; branding of the "Potato Shochu" which is a famous product of Kiyosato Town in Shari District, Hokkaido; and a town promotion together with the students of Professor Suzuki's seminar in Ajigasawa Town in Aomori Prefecture. I think it is my function to go to these places and talk at length with the people who live there, building relationships with them, and then to determine what parts of the vast trove of information should be left behind and what should be promoted. I call this, "going to meet the words," and I feel there is always an answer and ad copy to be found in the information that is already there. I was also deeply moved by the comment by someone I knew before from Kyushu, who said to us visitors from Tokyo, "So your job is to gather the beauty and splendor that the people who live there have not noticed." I think the work of a copywriter is not to create advertisements, but rather to find something that people can be proud of.
I got married this year. We submitted the marriage registration to the town offices of Higashikawa Town in Kamikawa District, Hokkaido. After it is processed, the marriage registration we submitted will be something unique that we can keep. At this time, I was shown around the town by a person who had given us much help when we were working on a poster, and stayed at a villa run by a family who had moved to the town, creating unforgettable memories. I am from Nara, but the bonds I feel with this place make it my second hometown.