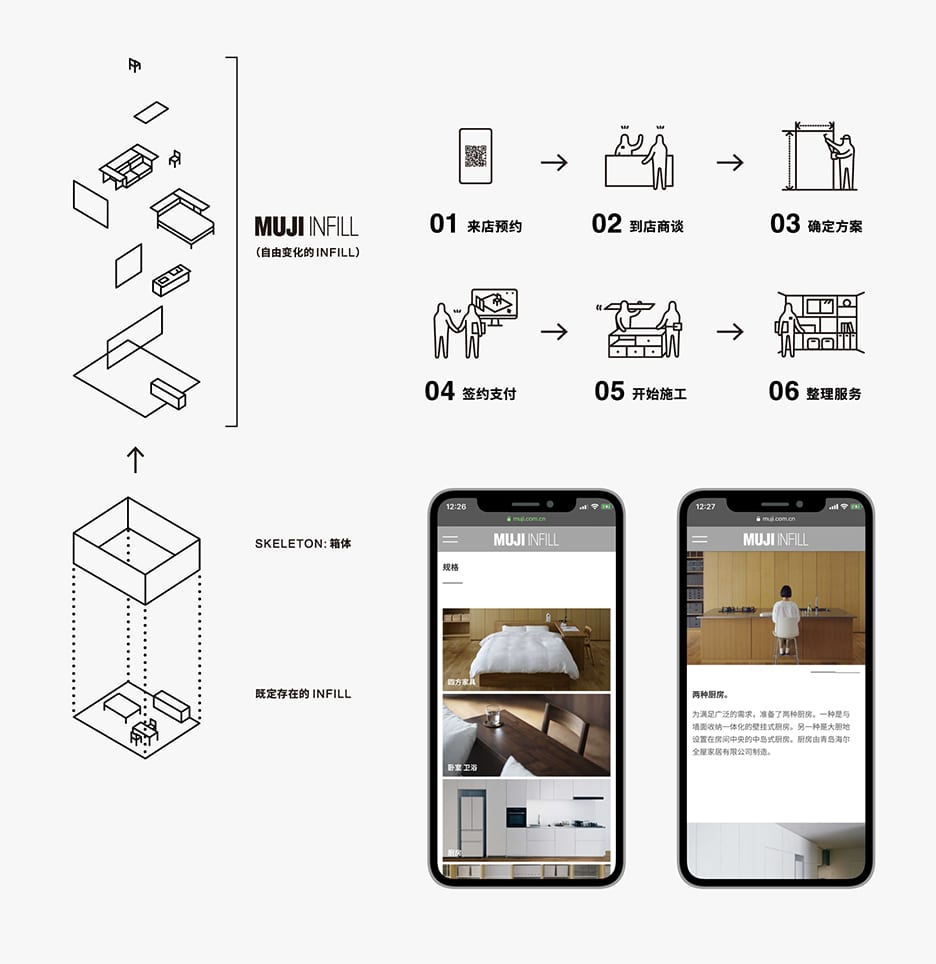 Feb 09, 2020
MUJI INFILL launched
MUJI INFILL is an interior finishing service launched by MUJI in China. This is a commercial version of the dwelling space concept presented by Youzhu and Nippon Design Center (Hara Design Institute) at the HOUSE VISION 2018 BEIJING EXHIBITION. Product development was conducted in collaboration with MUJI.
Based on furniture that achieves maximum space efficiency through the use of edge areas such as backs and sides, and on storage areas that perfectly accommodate MUJI's standard modules, MUJI INFILL is a comprehensive system delivering the basic interior structures for your home--such as construction of floors, walls, and ceilings--as well as helping you through to completion of the entire process of selecting, designing, constructing, and installing components such as storage areas, kitchens, sofas, beds, showers, baths, and toilets so that everything fits perfectly in your own custom dwelling space.
The first MUJI INFILL model rooms have opened on the B1 basement level and second floor of MUJI Qingdao Inzone Plaza, MUJI's sixth flagship store in China. Going forward, this service will be rolled out in Shanghai and other cities. MUJI fans in Japan will also be keeping a keen watch.
https://www.muji.com.cn/cn/mujiinfill/
CD, AD: Kenya Hara
D: Kenya Hara, Hiroyuki Sato, Kaoru Matsuno
C: Kenya Hara, Saki Shiraishi
Ph/Movie: Taiki Fukao
Web: Xin Zhong, Kohei Shimizu*
Animation: Hiroshi Hosokawa, Kenichi Hashimoto*
I: Megumi Ohno
PM: Reiko Yamaguchi
Pr: Satoshi Muraki, Deng Yu, Ping Xi