Nov. 2014
Creating with One's Own Senses and Hands
Creating with One's Own Senses and Hands
Creating with One's Own Senses and Hands
Misawa Haruka/Art Director, Misawa Design Institute
I believe that being fully dedicated to one's own sensitivities produces a kind of sympathetic understanding.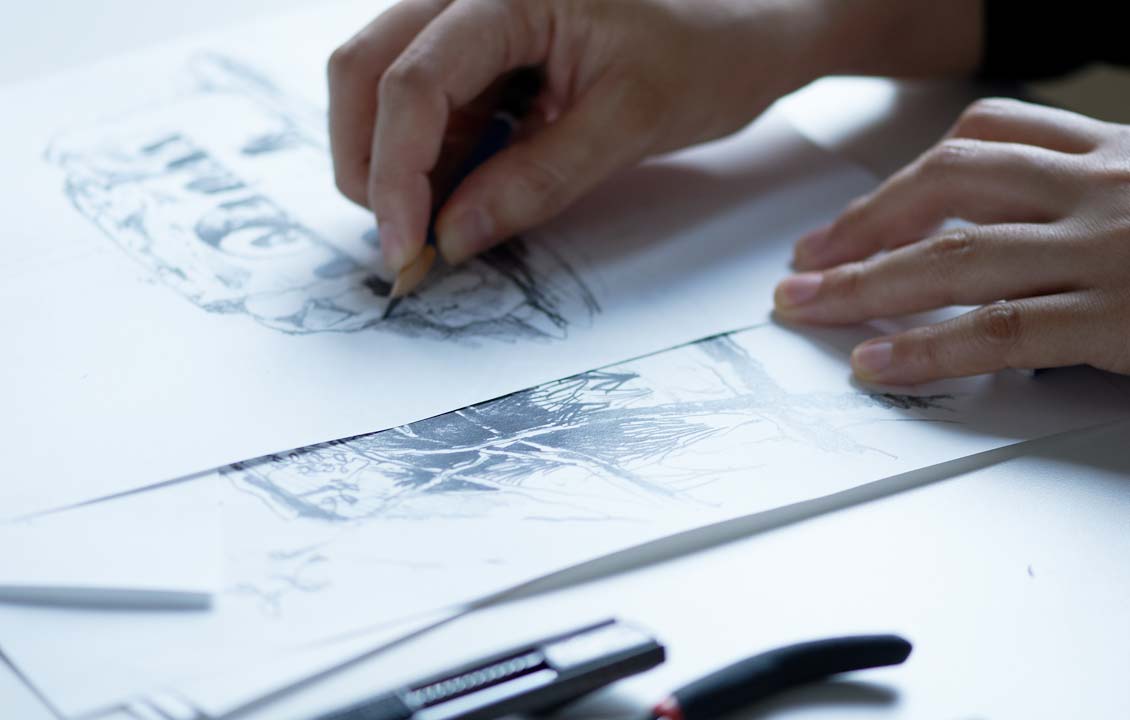 Misawa Haruka
Art Director, Misawa Design Institute
A designer and art director, Misawa Haruka was born in 1982 and graduated from the Interior Design Course of Musashino Art University in 2005. After working at the design office nendo, he joined the Hara Design Institute at Nippon Design Center in 2009. In July 2014, he began work as the Misawa Design Institute, and is involved in design in many fields including graphics, products, and space planning. Major works include the VI and entrance sign for KITTE Marunouchi, the "Paper Flower" and "Paper Vehicles of Flight" exhibits at the 2014 Takeo Paper Show "Subtle," and promotional materials for the "Midsummer Night Zoo" program at Ueno Zoo.2014「SUBTLE」への出品作「紙の花/紙の飛行体」、上野動物園「真夏の夜の動物園」の告知物などがある。
read more close
Hello. I am Misawa Haruka. My grandfather was a dyeing craftsman of Isesaki Meisen silk cloth and my father was a teacher who taught drawing and manual arts, so I was raised from the beginning in an environment close to people who make things. I became interested in design as a profession during my first year of high school. I became interested in woodworking when my parents gave me a fret saw for my birthday, and began thinking about going to art university. In university, my major was interior design, however at that time I still had no clear picture of what kind of designer I wanted to be in the future. As I anguished over this question, I had only a strong impulse to give shape to what I could see with my eyes. I remember spending every day at my desk drawing pictures as if I was possessed by something. My uncertainty continued after graduation, and I changed jobs several times, working at an interior company, design offices, and other places. At all of these places, I revealed my inexperience and I was beaten down both physically and mentally most every day. As I experienced a variety of work including products, architecture, and installations, I gradually began to see where my place as a designer was.
In 2009, I joined the Hara Design Institute at Nippon Design Center. I thought that because the Hara Design Institute would allow me to work in a broad range of fields including two-dimensional, three-dimensional, and space design, as well as exhibition planning, I could use the experience that I had gained from wandering among different jobs to my advantage. I was also strongly attracted to the approach that aims for universal designs that carefully search for the true nature of things. The impression I received from Hara Kenya's designs was that they were concise and clean, without even a hint of fog. However when I really looked at them carefully, I could see that they were covered with fingerprints and fingernail marks. These were the marks of persistence left on the designs by honest testing and validation, repeated almost endlessly, during the process which eventually led to the final form. It was by working close to and toiling together with Hara Kenya that I learned and understood that refinement is something that can only be created by passing through chaos and complexity. I have adopted this approach as my own.
At the 2014 Takeo Paper Show "Subtle," I exhibited "Paper Flower" and "Paper Vehicles of Flight." While continuing to work at the Hara Design Institute, I participated in this exhibition under my own name and was able to identify both by experience and intuition the great importance of the "working with one's hands" process that I had always personally valued. I think that my experience at that time began to make the future path which I should take clear to me. That path was "be true to one's own sensitivity and senses." For example with "Paper Flower," I discovered that the pencil shavings when I sharpened a pencil presented an arrestingly beautiful form, and this kind of personal experience becomes the source of my ideas. While it is also important to construct designs on a background of social ideas and philosophy, I believe that developing an image based on one's own sensitivity, completely rooted in one's individuality as a single human being, is one way of producing understanding and sympathy in large numbers of people. At "Paper Flower," there were in fact several persons who told me that they too had felt that pencil shavings resembled a flower. For the other exhibit, "Paper Vehicles of Flight," I also constructed the packaging myself. It is the cardboard case which you see in the last photo. Because design does not exist on its own and is always part of an environment, I think that an attitude of always looking carefully at one's surroundings and acting on one's own in the end will have an effect on the quality of the design.
In July I graduated from the Hara Design Institute and opened the Misawa Design Institute. Although there was a time when I was very concerned about my inability to be certain about my area of specialization, now I feel that in fact this has worked to my advantage. As long as a person does not lose the perspective of "creating with one's own senses and hands," then that person can take a flexible approach to developing his work while being casually involved in many different areas. For example, in August of this year I produced a poster and PR tools for the Ueno Zoo, and I have dreams of being involved in the design of the animal cages in the future. When thinking about design, while I feel that a balance of ideas and fixed quality is important, I do not have much interest in the direction or specialization of the output. When an idea strikes me, deciding not to follow it because it is not in my area of specialization would be a terrible waste and horribly confining. Just as a breeze through an open window freshens the stale air inside, it is areas which are not our own that provide us with fresh ideas. I think that designers who "specialize in not specializing" are rather rare, but I am one of them and I am looking forward to expanding the area of my profession as a designer who thinks about everything in the world.